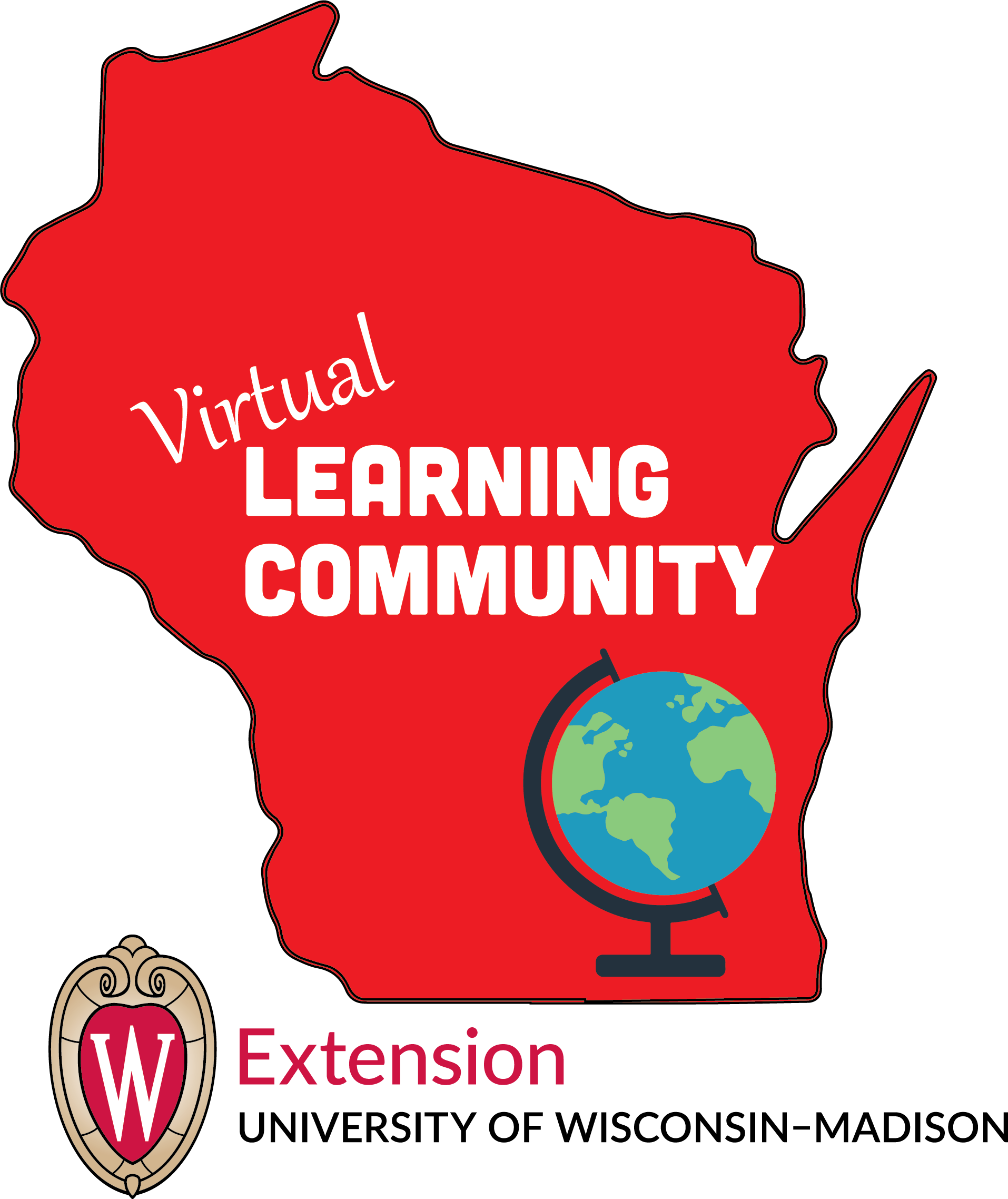 Wisconsin 4-H is excited to launch our Summer Virtual Learning Community!!
Join us for a variety of engaging activities and opportunities done virtually or independently from July 1-August 31! Activities will be planned and led by Extension staff, UW-Madison professors, volunteer leaders, youth leaders, working professionals, and more! Activities will be presented via different platforms, times and topics.
Activities will include:
Live hands-on arts and crafts, foods and other project demonstrations
Self-paced lessons
Documentary group watches and discussions
Expert group presentations and discussions by professors and professionals
Virtual tours
And MORE!!
We invite you to follow along with our Summer Virtual Learning Community and hope you find something engaging for you or your family.
We recognize and acknowledge that many families are taking a break from virtual programming this summer and we completely understand.  However, if you are looking for some ideas and programming we will have a variety of experiences and opportunities for YOU.
You can find more information on our webpage at: https://4h.extension.wisc.edu/virtual-learning-community/.
Follow the Summer Virtual Learning Community Calendar on TeamUp: https://teamup.com/ksnu8io835yz2chr6f. You can also download the TeamUp App for free to access the calendar quickly on your smartphone or other device.
Please note that the calendar will continue to be built out over the summer!!  We are just getting started and learning as we go.  Check back often.  As a learning community, we hope you will share ideas and suggestions as we learn and grow together this summer.
****************************************************************************
Wisconsin 4-H would like to highlight "Traveling Beyond Your Culture: a Global Citizenship Series" that will Kick-Off our Summer Virtual Programming on July 1st, 2020. 
What Is the Global Citizenship Series? Each week, a list of online and at-home activities relating to the weekly topic will be released to the website. We will also host a Zoom Meeting each Wednesday, where youth will have the opportunity to learn firsthand from presenters from Japan, Norway, and Mexico about life and culture in those countries. All activities and Zooms are completely optional. Youth and families are encouraged to participate in as many activities and Zooms as they are interested in.
Who Can Participate? The Global Citizenship Series has been designed with 5th-8th grade in mind. Youth of all ages are encouraged and welcome to participate. Youth do not need to be 4-H members to participate. Please feel free to share this opportunity with any youth who may be interested. However, we ask that you do not share or forward on Zoom Meeting links sent to you.  We need everyone to register and then links for the program will be sent to them.
When? The first week of activities will be published to the website on Wednesday, July 1st. There will be a kickoff Zoom Meeting on Wednesday, July 1st, at 7:30 pm. New materials and activities connected to each week's topic will be published to the website on the Monday of each week.
How Do I Sign Up? Please register for the course at this link: https://forms.gle/bx5ya5KzwYrmcsUF6. By registering, you will receive the link to the course website; weekly updates and reminders, as well as the Zoom Meeting links and passwords for each Zoom Meeting.
| | | | |
| --- | --- | --- | --- |
| Week | Dates | Topic (NEW Activities posted each Monday) | Zoom Meeting Date |
| First Week | July 1-5 | Kickoff Week – What does it mean to be a global citizen? | Kickoff Zoom Meeting: Wed, July 1st at 7:30pm |
| Second Week | July 6-12 | Exploring My Own Culture | Wed, July 8th at 7:30pm |
| Third Week | July 13-19 | Japan Week! | Wed, July 15 at 7:30pm |
| Fourth Week | July 20-26 | Norway Week! | Wed, July 22 – Time TBD – most likely in the morning |
| Fifth Week | July 27-31 | Mexico Week! | Wed, July 29 at 7:30pm |
We hope you will consider getting involved in our Summer Virtual Programming and our Global Citizenship Series! If you have any questions, please don't hesitate to reach out to Justin Lieck at justin.lieck@wisc.edu, Amber Rehberg at amber.rehberg@wisc.edu or Heidi (Vanderloop) Benson at heidi.vanderloop@wisc.edu.
Thank you and here is to a great summer of learning and FUN!