Families in Barron, Burnett, Rusk, Sawyer, and Washburn counties are invited to a class titled, "Raising Healthy Eaters."  The class will be on Wednesday, May 26th, 2021 and will be offered at 10:00 am, 1:00 am, or 8:00 pm.  It is being offered as a Online Zoom class that you can access from your computer, laptop, phone, or tablet.  You can click on the the link: https://forms.gle/uvqyfh4STYXQQHyJA to register or you can call the Barron County Extension Office at 715-537-6381 and register for Barron and Rusk counties.  For Burnett, Sawyer, or Washburn you can call 715-635-4444 to register.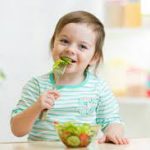 Join us as we have conversation about:
It is okay to coax my child to eat something?
How do I handle a picky eater?
Setting limits
Family members wanting different things to eat.
Stressful mealtimes.
The class will run for an hour.