Field Day at the Barron County Demo Plot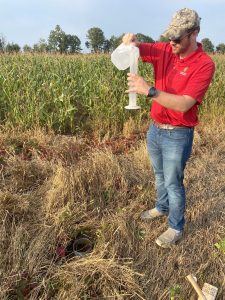 On Thursday, September 15, 2022, Michael Geissinger, Barron County Regional Crops Extension Educator, held a field event at the Barron County demo plot.
The plot is newly established, inter-seeded cover crops. It is located at 1393 19th Street, Cameron, WI 54812.
The event was focused on soil conservation topics and introducing the Barron County demo plot to people that have not been there before. We looked at some cover crops that were inter-seeded into standing corn with Justin Everson, Barron County Conservation Planner. I talked about some soil health principles and ran some water infiltration comparisons on the soils that have been undisturbed vs. in production (soils in production with heavy tillage took approximately 20 minutes longer to absorb an inch of water, compared to undisturbed soils, marking the need for soil health practices that restore soil structure and microbial activity), Tyler Gruetzmacher, Barron County Conservation Technician, talked about the effect of subsoiling as an opportunity to begin remediation on severely compacted soils, and the farmers had some time for open conversation amongst themselves talking about successes/failures of cover crops this year.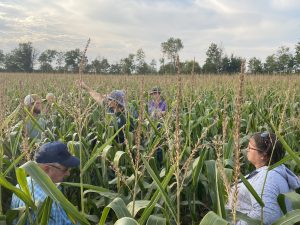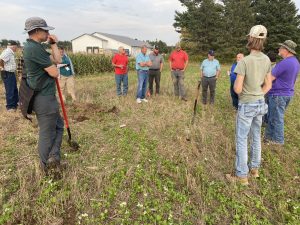 Make "Soil Health" work. Right Here.
NW Wi and Eastern MN Corn-Soybean Farmers
Date: Wednesday, February 15, 2023
Time: 9:30 am to 2:30 pm
Place: Ready Randy's, New Richmond
We hear about "Soil Health" and new practices. But now it's time to hear what's working RIGHT HERE. Yes, we will have the data to backup the why, but come learn about the how!
This event will have:
Real Discussion of how to reduce costs and improve corn/soybean operations.
No sales pitches.
Efficient Nitrogen Management – Talk to experienced farmers and professionals on lowering fertilizer costs while maintaining yield.
Cover Crops in our Region – Hear from folks who make cover crops work North of I-94. Our farmers and researchers will share their strategies.
General Session – Got another topic of interest you want to throw out to your peers? Let's talk shop.
Organized by St. Croix and Red Cedar Valley Farmer-Led Watershed Councils.
Please RSVP for Free Lunch at: tdaun@wisconsinfarmersunion.com
Phone: 715-492-0329
BARRON COUNTY EXTENSION OFFICE
335 E. MONROE AVENUE, ROOM 2206
BARRON, WI 54812
CONTACT: Michael Geissinger, Regional Crops Extension Educator
CELL PHONE: (651)302-6520
EMAIL: michael.geissinger@wisc.edu