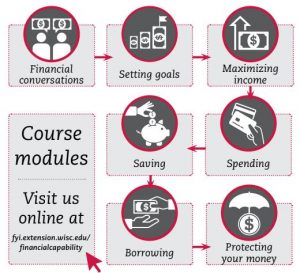 Encouraging Financial Conversations is a program designed for case managers, social workers, and other frontline staff to help empower clients to achieve their financial goals and manage their money. Participants will learn techniques and strategies to help their clients create a financial goals action plan, build and maintain good credit, pay off debts, develop a spending and savings plan, and protect themselves from fraud and identity theft. Participants will also learn coaching strategies that capitalize on a client's strengths and resources in coming up with solutions.
Personal finances are just that – personal! Positive conversations around money are grounded in respect, confidentiality, and creating a judgment-free zone. Many helping professionals have on-going relationships with their clients and are in a position to provide resources to individuals who may not seek out financial education.
Register here: Encouraging Financial Conversations
For more information click here
If your organization or staff would benefit from this training, reach out to Missy Bablick to set up a program that is best for the schedule and time of your organization or staff.
Missy Bablick
715-537-6254