Learn the process for identifying plant problems in your own trees, landscape and garden and be prepared for the next growing season! This course explains the basics of the plant diagnostic process in an easy-to-learn way.
At the end of the course, you'll be able to:
Explain the steps of the diagnostic process.
Identify appropriate unbiased, researched-based resources to use in the diagnostic process.
After you've finished this course, we hope you feel empowered to attempt diagnostics with your own plants using the framework you'll learn in this course accessing the resources we'll share with you, and using UW-Madison Divisions of Extension diagnostic services and labs for extra help when you need it.
WHAT: An online course where you move at your own pace through 13 modules with online videos, reading and interactive exercises. Bonus: two live webinars, "Putting the Process into Practice: Real World Diagnostics," led by Extension educators who practice plant diagnostics and "Meet the Labs!" presented by UW-Madison diagnostic lab directors. The webinars will be recorded.
HOW: This is an online course that uses Canvas (online classroom) and Zoom.
WHEN: February 1-April 30, 2023. This is the moderated course timeframe, when the course will be monitored actively by staff and course questions will be answered. However, as a participant, you will have access to content through the December 31, 2023. The course is designed with flexibility for the busy adult in mind. Go through the course at your own pace when you have time!
WHO: This online course is open to the general public, Wisconsin Extension Master Gardeners, and commercial professionals. This course counts for 7.5 hours of continuing education for the Wisconsin Extension Master Gardener Program. ISA Certified Arborists: if you complete this course by April 30, 2023, you will be awarded 7.5 CEUs.
Dates: February 1- April 30, 2023
Cost: $99.00/public and WI Master Gardeners $49.00
To register for this class, use this link: https://hort.extension.wisc.edu/plant-diagnostics-course
For any questions, you can contact Amy Frietag at: gardening.class@extension.wisc.edu
Deadline to register: January 31, 2023
Master Gardener Volunteer Week – April 16-22,2023
National Volunteer Recognition Week is happening April 16-22, 2023. We would like to thank all of our Barron County Master Gardeners who work hard putting in many hours at beautifying our community! They have many projects they work on throughout the year; the Barron County Pioneer Museum in Barron, Barron County Fair in Rice Lake, Barron Community Garden in Barron, Aging and Disability Resource Center of Barron and Rusk counties, and the Barron County Boys and Girls Club and many more. Again, a big "thank you" to our master gardeners.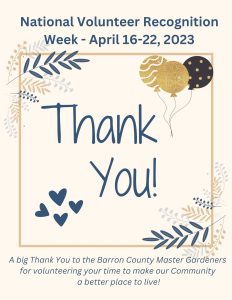 Mission Statement
The goal of this organization shall be to encourage, foster, support and promote Horticulture for all Master Gardener Volunteers and residents of Barron County and to promote UW-Extension from which we are founded.
Annual Dues: $20.00 due in October
Payable to: Barron County Master Gardeners (BCMG)
Send to : Millie Seabold, 2173 24th Avenue, Rice Lake, WI 54868
President – Gene Nelson
Vice President -Carol Kettner
Secretary – Jennine Kettner
Treasurer – Millie Seabold
Directors: Cindy Giguere, Hali Dessecker, Sheri Snowbank, Carolyn Swanberg
OTHER CONTACTS:
Historian – Carolyn Swanberg
Newsletter – Carol Kettner
Publicity – Hali Dessecker
WIGMA State Board Rep: Hali Dessecker
COMMITTEES:
Finance/Budget: Chair – Millie Seabold (current treasurer), Officers and Directors serve on the committee.
Membership Book – Carol Kettner, Kim Grover
Nominating Committee – appointed by the board of directors
Outreach, Grants, and Scholarships – Chair – Millie Seabold – Committee members – Linda Mullikin, Carolyn Swanberg
Planning and Expo Chair: Carol Kettner – Committee members: Judy Laendresse, Cindy Giguere, Jeannine Kettner, Hali Dessecker
VOLUNTEER OPPORTUNITIES:
Barron County Master Gardeners Association
Monthly Meetings
Committee Work
Rice Lake Farmer's Market – contact Gene Nelson
School Sunflower Project – contact Linda Mullikin
Plant Sale – contact Deb Schmidt
Barron County Historical Society:
Pioneer Village Museum Garden Work – contact Carol Kettner
Barron County Fair Association:
Barron County Fairgrounds – contact Wendy Kolzow
Barron County Fair – contact Deb Schmidt and Aura Lea Carroll
FoodWI Barron County:
Barron Community Garden – contact Gerri Nedland
Aging and Disability Resource Center of Barron and Rusk counties.
Barron County Boys and Girls Clubs
January – BCMG Board Meets – No regular monthly meeting
February 2, 7:00 pm – Zoom from home with Patti Zais
Patti is from Cumberland and took the MG class in Barron County in 2013. She has since moved to New Zealand. She will talk about challenges of learnin to garden in completely different conditions. Patti will also talk about her volunteer work at the Miramar Prison Garden in Wellington, on the grounds of a closed prison. The garden contains a mixture of private vegetable plots, communal growing ares, fruit tree,s beehives, a ritual/event space, and a community compost drop off area.
March 2 – 7:00 pm
Janet Cain – Barron County DNR Forestry Representative, will talk about forest health issues and provide some informatino on forest programs available for landowners. Meeting will bve held in Room 110- in the Government Center in Barron.
APRIL 1 – SPRING GARDEN EXPO
DATE: April 1, 2023
PLACE: Northwood Technical College in Rice Lake, 1900 College Drive, Rice Lake, WI 54868
COST: $50 or $35.65 (62 and older)
TIME: 8:30 – 9:00 am – Registration
Our first Spring Expo in 4 years! Speakers:
Lisa Hinzman Howard – Cheap Tricks: "Cause you don't need to spend a fortune for Fabulous."
She will explore using found items in unique, beautiful, funky, and whimsical ways in the garden year-round. Lisa will have copies of her book by the same name for sale. Learn how to follow the seasons sharing tricks to use in your garden all year round. Lisa is an Iowa Master Gardener, an author, speaker, and consultant. She helps gardeners – from pros to dabblers to wannabes – experience the joys of gardening. As the founder of Midwest Garden Gal, LLC, she designs classes both in person and web-based. Lisa als9 conducts in-person and online yard and garden consults for home and business owners.
Lisa Hinzman Howard – Clematis: Queen of the Vines."
Everything you need to know about growing clematis in your garden; from when to prune, where to grow and ho to help them flourish. clematis is a great attractor for pollinators.
Diana Alfuth – "Garden Pests."
Diana, a UW-Extension Horticulture Outreach Specialist, for Pierce and St. Croix counties, has a bachelor's and a master's degree in Horticulture from the University of Minnesota, with a focus on plant pathology and landscape design. She has been helping people in Western Wisconsin and training Master Gardeners for over 22 years. She will talk about garden pests, from Japanese beetles to squash borers, and from powdery mildew to tomato blight.
Dora Wood – "Edible Perennials."
Dora will provide ways to enjoy beauty and bounty from the same space, with edible perennials. Dora resides near Chippewa Falls on a Home Oasis Farm which uses sustainable, organic farming practices. She shared her solar powered homestead with her husband, youngest daughter, cat, dogs, free range chickens and
Belted Galloway beef cattle. She enjoys gardening – growing numerous fruit trees, grapes, kiwi, mushrooms, various berries, vegetable and flower gardens, which are part of what lead her to become a Chippewa Valley Master Gardener.
Lunch will be included in the fee with registration. To register by phone call: 715-234-7082.
Or register online at: https://www.northwoodtech.edu/continuing-education-and-training/conferences-and-events/spring-garden-expo
Vendors will be selling garden items and providing educational materials. The Barron County Master Gardener Volunteers will also have Raffle items to support their programs.
May 4 – 7:00 pm
Brian Hudelson will speak via Zoom on diseases to look for in 2023. Meeting will be hled in the Auditorium in the Government Center in Barron.
May 20 – Annual Plant Sale – Details to be determined.
June 1 – 6:00 pm
Picnic and garden meandering at Carolyn Swanberg's home in Chetek.
July 6 – 6:00 pm
Picnic and garden meandering at the Pioneer Village Museum. By July the vegetable garden is growing and there is a lot to see in the rain garden. Picnic at 6:00 pm. Members may come as early as 5:00 pm.
July 19-25 – BARRON COUNTY FAIR
July 17 – Monday – Set up the Horticultural Building
July 18 – Tuesday – Junior Class Judging
July 19 – Wednesday – Open Class Judging
July 20-23 – Staff the Horticultural Building
July 23 – Clean Up
August 3 – 6:00 pm
Picnic and garden meandering at Jeannine Kettner's home in Rice Lake.
September 7 – 7:00 pm
Mary Jo Fleming – "A Kinder, Friendlier Garden." As a Master Gardener Volunteer and retired teacher, she has used her background in biology and interest in native, sustainable gardening to make landscapes more diverse and a lot more fun. this is a good time of year to talk about critters that rely on our landscapes to survive the Wisconsin winters.
October 5 – 7:00 pm TBD
November 2 – 7:00 pm
A program on issues with growing fruit. Statewide, there are more and more people growing fruit and there are specific diseases and pests that keep coming up on the state question site. Speaker – TBD.
December 7 – Holiday Get Together – Details TBD.
---
More in this Section